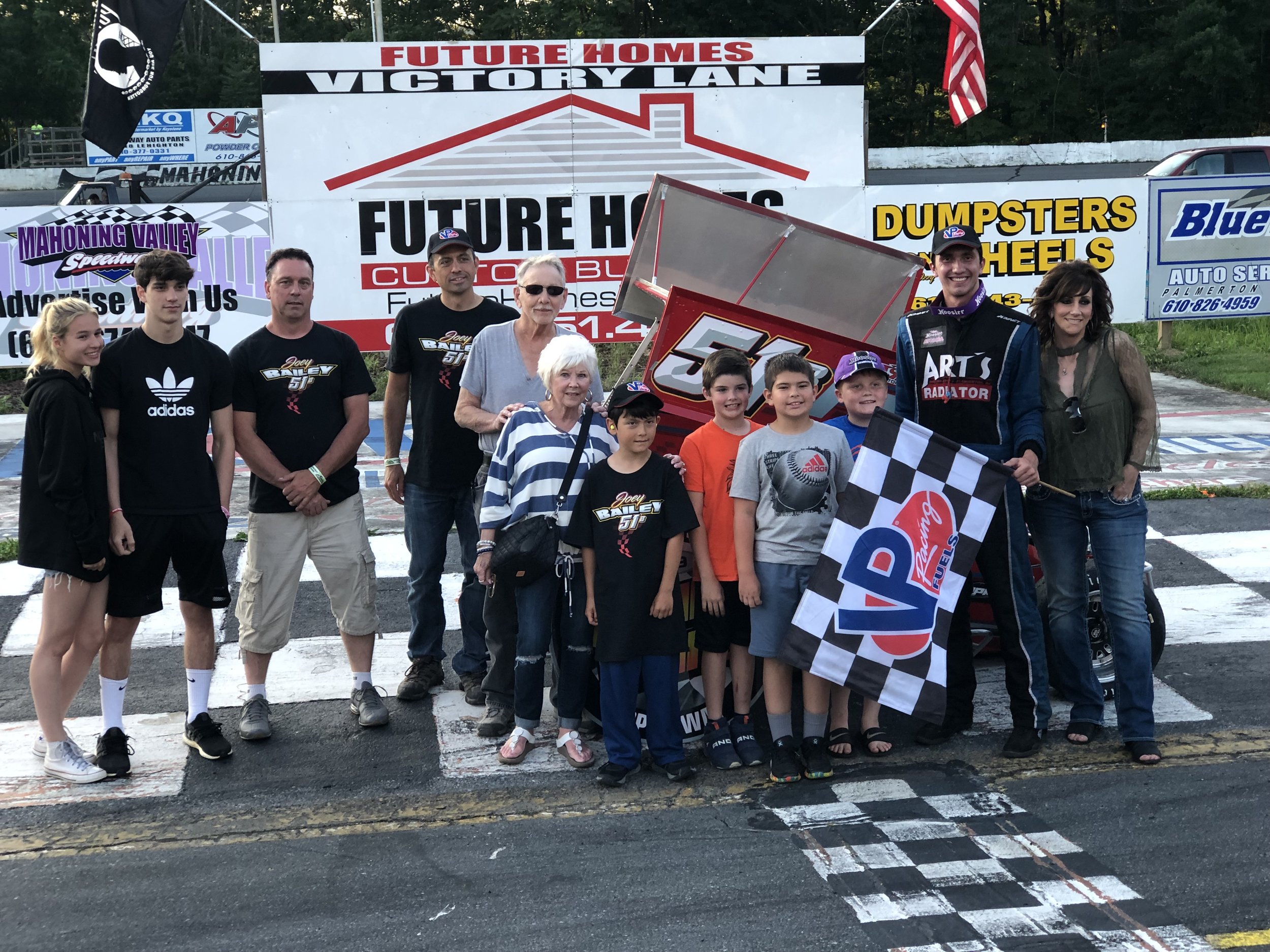 Joey Bailey earned his third consecutive Hoosier Tire Mid-Atlantic ATQMRA powered by VP Racing Fuels feature victory of the 2019 season at Mahoning Valley Speedway this weekend. This was the fifth points paying event of the season, and the second race of the year held at the blistering fast 1/4 mile oval.
Two heat races kicked off the evening for the ATQMRA, with former champions 'Flyin' Ryan Tidman and Buddy Sload earning victories in the first and second heats respectively.
When it was time to drop green flag on the 25 lap feature, Cole Mullen led the field to the green.
Geoffrey Sutton, of nearby East Stroudsburg, PA, would bring the hometown crowd to their feet with a daring, three-wide move for the lead in the first turn of the opening lap. Buddy Sload chose the outside around Mullen to complete the battle for the top spot. Sload would fall in line and pace Sutton for much of the opening laps.
Soon after the first of two restarts of the event, Sload would slip underneath Sutton for the lead, and would pull away to a near eight car length lead. Meanwhile, points leader Joey Bailey would get into a strong battle of his own with teammate Sutton, eventually over taking Sutton for the second spot. Sload would continue to maintain a large gap field as Bailey began to lurk.
The second and final caution flew on lap 15 due to a mechanical failure on the Steve Craig machine. The caution would set up a 10 lap shootout to the finish. Sload led the field down to the green, but Bailey kept him honest. For nearly the next five laps, Sload and Bailey raced in a side-by-side, wheel-to-wheel battle for the lead.
While Sload grabbed the victory at Mahoning over Bailey in April, tonight it was Joey Bailey who got the best of Sload, to earn his third feature victory of the season.This was also Bailey's third consecutive win of the season, which has helped expand his points lead to 12 heading into Wall Stadium.
Geoffrey Sutton would round out the podium in another great showing during his 2019 campaign.
New England standout driver Avery Stoehr made the trip to Eastern Pennsylvania for his first start of the 2019 campaign. Avery would earn a pair of highly respectable finishes, by finishing third in his heat and fourth in the feature.
Ryan Tidman officially rounded out the top-5, in a valiant effort to remain within a reasonable distance of leader Bailey in championship standings.
The Hoosier Tire Mid-Atlantic ATQMRA powered by VP Racing Fuels returns in two weeks on Independence Day weekend, to compete at Wall Stadium Speedway on Saturday, July 6th, 2019.
Heat Race 1 Results
#1B Ryan Tidman

#51B Joey Bailey

#75 Mark Yoder

#55C Steve Craig

#39 Ronnie Mullen DNS
Heat Race 2 Results
#36 Buddy Sload

#51 Geoffrey Sutton

#23 Avery Stoehr

#73 Cole Mullen

#55 Paul Dodorico
Feature Race Results
#51B Joey Bailey

#36 Buddy Sload

#51 Geoffrey Sutton

#23 Avery Stoehr

#1B Ryan Tidman

#73 Cole Mullen

#75 Mark Yoder

#55 Paul Dodorico

#55C Steve Craig

#39 Ronnie Mullen