Staff Report | Monday, June 17th, 2019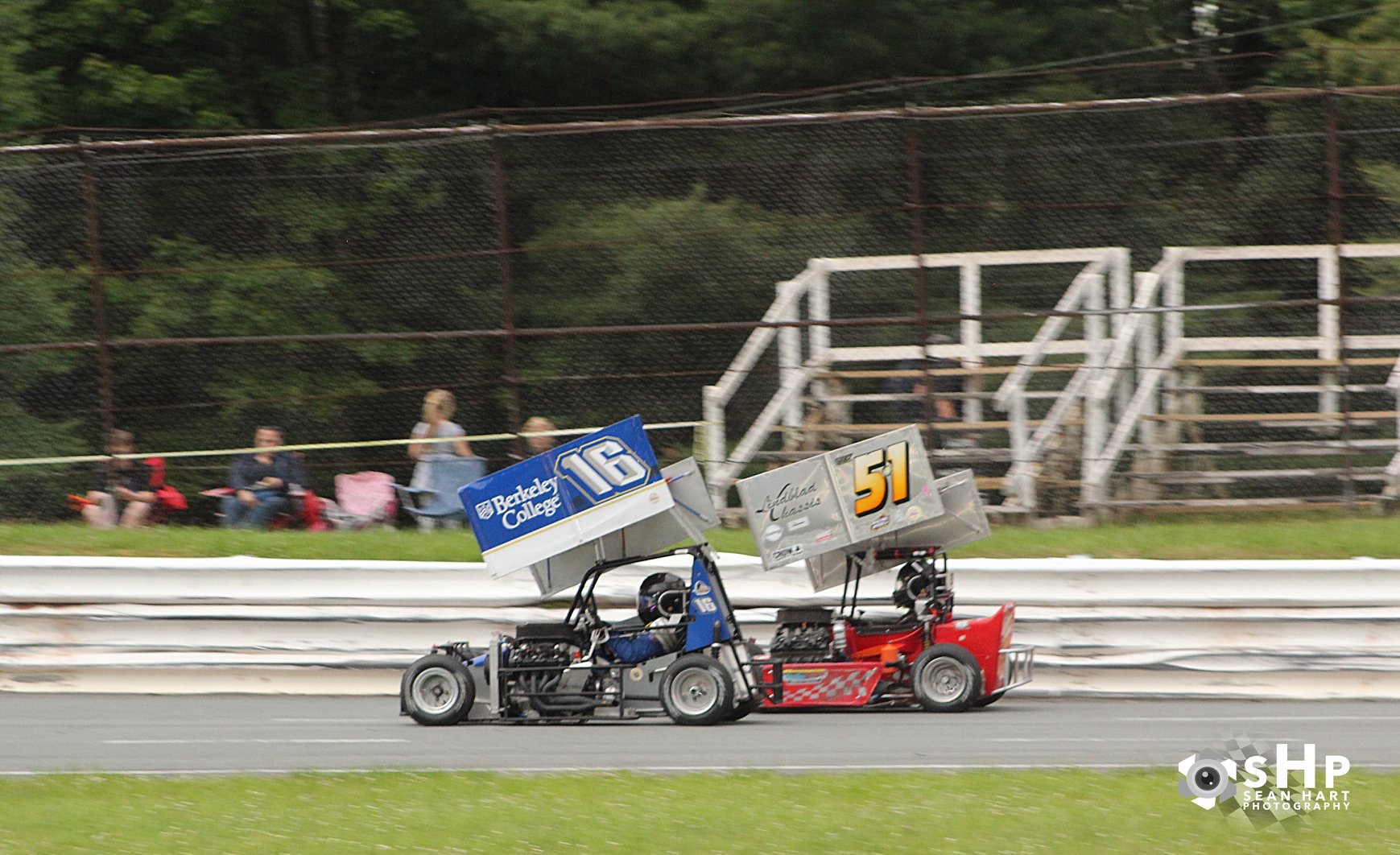 Joey Bailey captures the checkered flag and the lead in championship standings by winning at Bethel Motor Speedway's Pine Brook Reunion Night.
The Hoosier Tire Mid-Atlantic ATQMRA powered by VP Racing Fuels made a trip to the Catskills to run the fourth event of the season at Bethel Motor Speedway. The theme of the evening was heritage, as the venue hosted their 2nd Annual Pine Brook Speedway Reunion Night. Many were on hand to celebrate the late speedway and those who competed at Pine Brook.
Two heat races kicked off the evening with Geoffrey Sutton and Ryan Tidman earning the victories.
For the first time this year, handicapping would set the line up for the feature race placing Mark Yoder on the pole position.
The racing action picked up quickly with a side by side battle between Yoder and Ryan Tidman. Tidman would eventually overtake Yoder, charging to a demanding lead.
However, it would not take long for Wall Stadium Feature Winner, Joey Bailey, to chase down Tidman setting up a multi-lap battle for the lead.
As the race approached the halfway point, the loan caution of the feature was flown when Paul Dodorico and Ronnie Mullen came together in a racing incident, spinning Dodorico in turn 2. While there was no major damage on either vehicle, the incident would ultimately end the night for Dodorico.
On the restart, a fierce side-by-side battle between Tidman and Bailey took place, with Bailey eventually earning the top spot. Joey Bailey would command the field for the remaining 10 laps of the race, earning him and co-owner's Alan Mollot and Russ Bailey their second consecutive feature win on the season.
After a strong showing Ryan Tidman would finish second, with Geoffrey Sutton finishing a season high third. Buddy Sload and Tim Proctor would round on the top-5 finishing positions respectively.
Jake Nelke made his impressive ATQMRA debut this weekend after finishing fourth in the first heat race and sixth in the feature. Nelke was a late entrant of the event, subbing for Mike Glaser in the #02 after Glaser became ill early Saturday morning. We wish Mike Glaser a speedy recovering and look forward to having him back at the track soon.
Cameron and Tim Ruggiero made the trip from Western New York for their 2019 debuts as well, both of which rounded out the top 10 of the running order finishing 9th and 10th respectively.
The Hoosier Tire Mid-Atlantic ATQMRA powered by VP Racing Fuels will be in competition at Mahoning Valley Speedway this Saturday, June 22nd, 2019. Joey Bailey will be the points leader by a slim margin over Buddy Sload heading into the event. Sload won at Mahoning this past April.
Race Results
Heat 1
#51 Geoffrey Sutton

#51B Joey Bailey

#55 Paul Dodorico

#02 Jake Nelke

#62 Cameron Ruggiero

#16 Kyle Taraska

#39 Ronnie Mullen
Heat 2
#1B Ryan Tidman

#36 Buddy Sload

#75 Mark Yoder

#98 Tim Proctor

#73 Cole Mullen

#01 Tim Ruggiero
Feature
#51B Joey Bailey

#1B Ryan Tidman

#51 Geoffrey Sutton

#36 Buddy Sload

#98 Tim Proctor

#02 Jake Nelke

#75 Mark Yoder

#73 Cole Mullen

#62 Cameron Ruggiero

#01 Tim Ruggiero

#39 Ronnie Mullen

#55 Paul Dodorico

#16 Kyle Taraska DNS