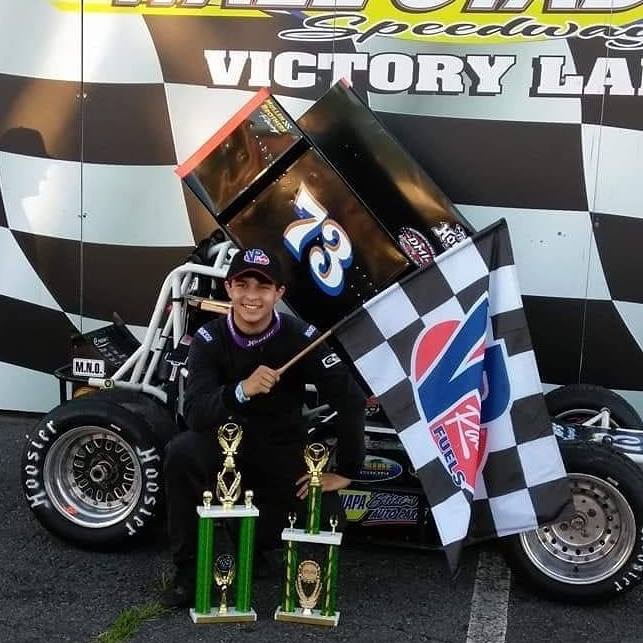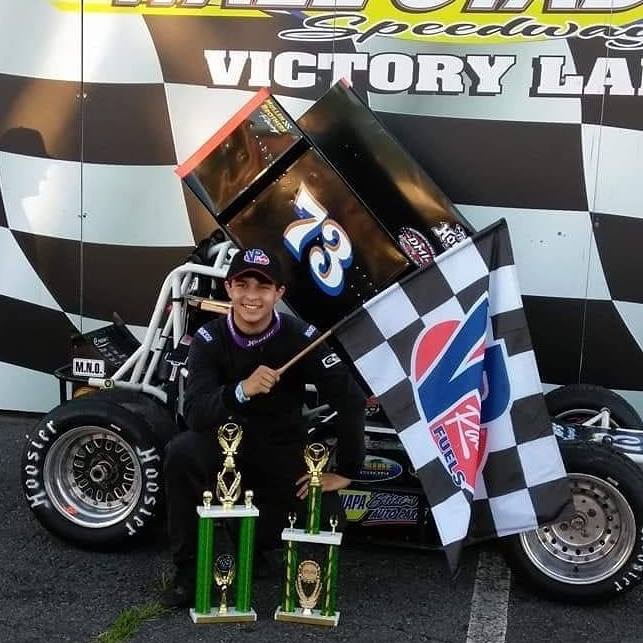 Wall Township, NJ – For the sixth event this season, the Hoosier Mid-Atlantic ATQMRA powered by VP Racing Fuel invaded Wall Stadium Speedway. This was the second of five scheduled events at the historic facility in 2018.
The first of two heat races saw a thrilling battle between Mark Yoder and red hot Joey Bailey, who made a last lap pass to claim the victory. Bailey, of Monroe, NJ, entered this weekend's race winning back to back feature events at Bethel Motor Speedway and Mahoning Valley Speedway.
The second heat race was won by "Flyin'" Ryan Tidman. Tidman, who won the 2017 running of the Turkey Derby last November at Wall Stadium, came to the Jersey Shore this weekend hoping that he could return to the track to earn his first feature win of the season.
The feature event went off without a hitch. The hometown kid, Cole Mullen of Brick, NJ, led the field to green for the 25-lap feature. Mullen would lead the opening laps of the event before being overtaken by Buddy Sload on the third lap.
Sload would go on to lead the next 22 laps and would take the white flag as the leader prior to a controversial race to the checkered flag. Entering the third turn of the final lap, a hard charging Matt Janisch made a daring move for the lead. However, this move resulted in contact with Sload, cutting Sload's left rear tire down ruining his opportunity to win the race.
Although Matt Janisch was the first driver to cross the start finish line, a two-position penalty was issued due to his turn three maneuver, resulting in the pole sitter Cole Mullen earning his first career ATQMRA victory. The emotional victory lane featured both Cole, his father and fellow competitor Ronnie, and entire family and crew were on hand to take part in the celebrations. Cole has spent much of his racing career on the Wall Stadium property, earning a phenomenal reputation at "Lil" Wall, the Quarter Midget track located behind the pit area of the speedway.
Joey Bailey finished second in the event, finishing just one position short of earning a three-peat. Janisch would officially be scored in third after the issued penalty from Race Control. Sload would ultimately end up forth and Ryan Tidman rounded out the top five.
Kyle Taraska made his second start of the ATQMRA season finishing sixth. Taraska, sported new colors this weekend earning sponsorship support from his educational institution Berkeley College.
ATQMRA veteran Joey Payne debuted in 2018 finishing in the seventh position. Mark Yoder, Joey Jarowicz, Paul Dodorico and Ronnie Mullen would round out the finishing order respectively.
Through six events, the Hoosier Mid-Atlantic ATQMRA has featured five different winners. The series will be taking a weekend off before returning to Bethel Motor Speedway for the second time in 2018, on Saturday July 21st.
 
Race Results
Heat Race #1
1. #51B Joey Bailey
2. #75 Mark Yoder
3. #16 Kyle Taraska
4. #36 Buddy Sload
5. #51 Joey Payne
6. #39 Ronnie Mullen
Heat Race #2
1. #1B Ryan Tidman
2. #73X Cole Mullen
3. #48 Matt Janisch
4. #17 Joey Jarowicz
5. #55 Paul Dodorico
Feature
1. #73X Cole Mullen
2. #51B Joey Bailey
3. #48 Matt Janisch
4. #36 Buddy Sload
5. #1B Ryan Tidman
6. #16 Kyle Taraska
7. #51 Joey Payne
8. #75 Mark Yoder
9. #17 Joey Jarowicz
10. #55 Paul Dodorico
11. #39 Ronnie Mullen