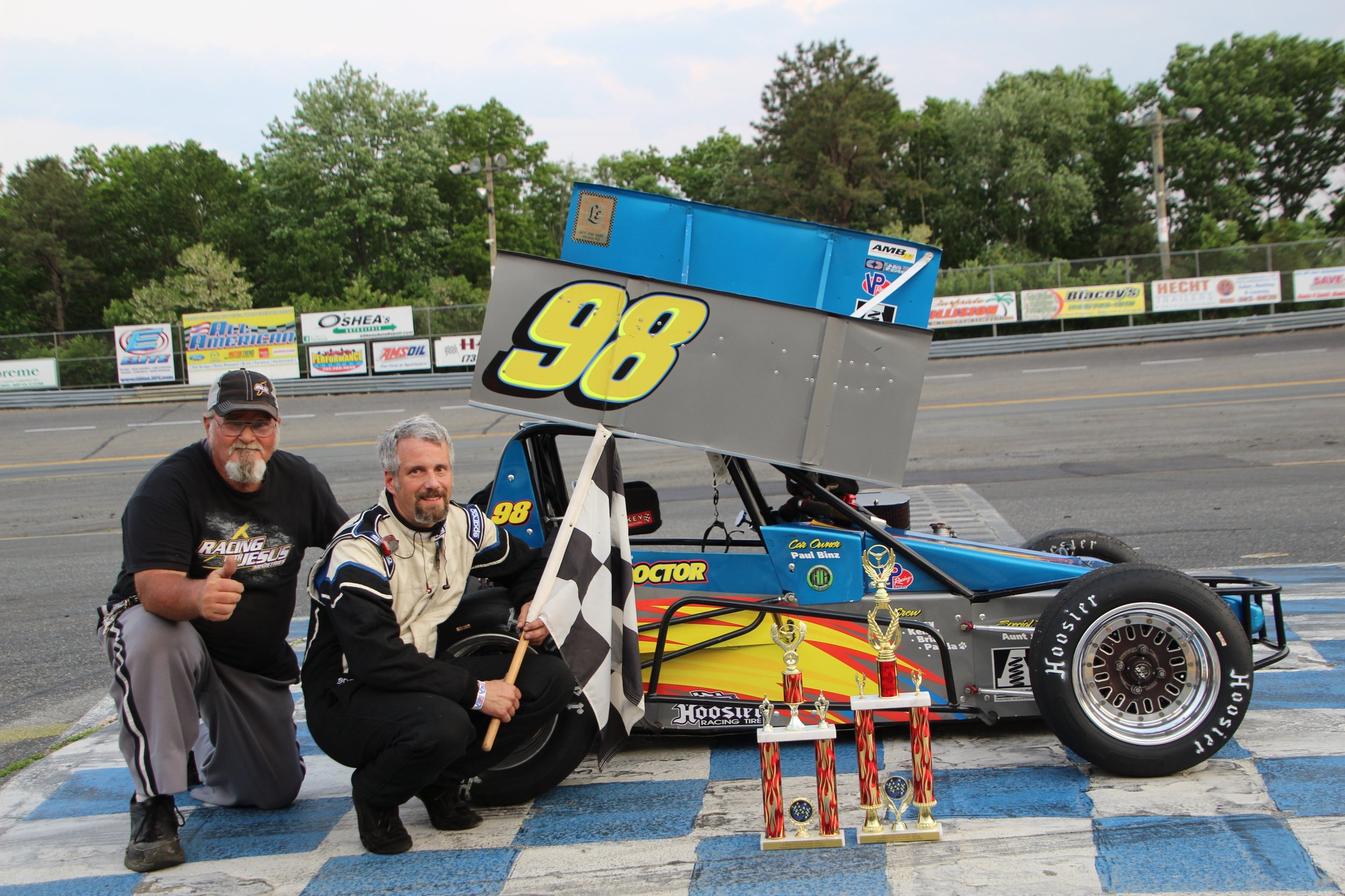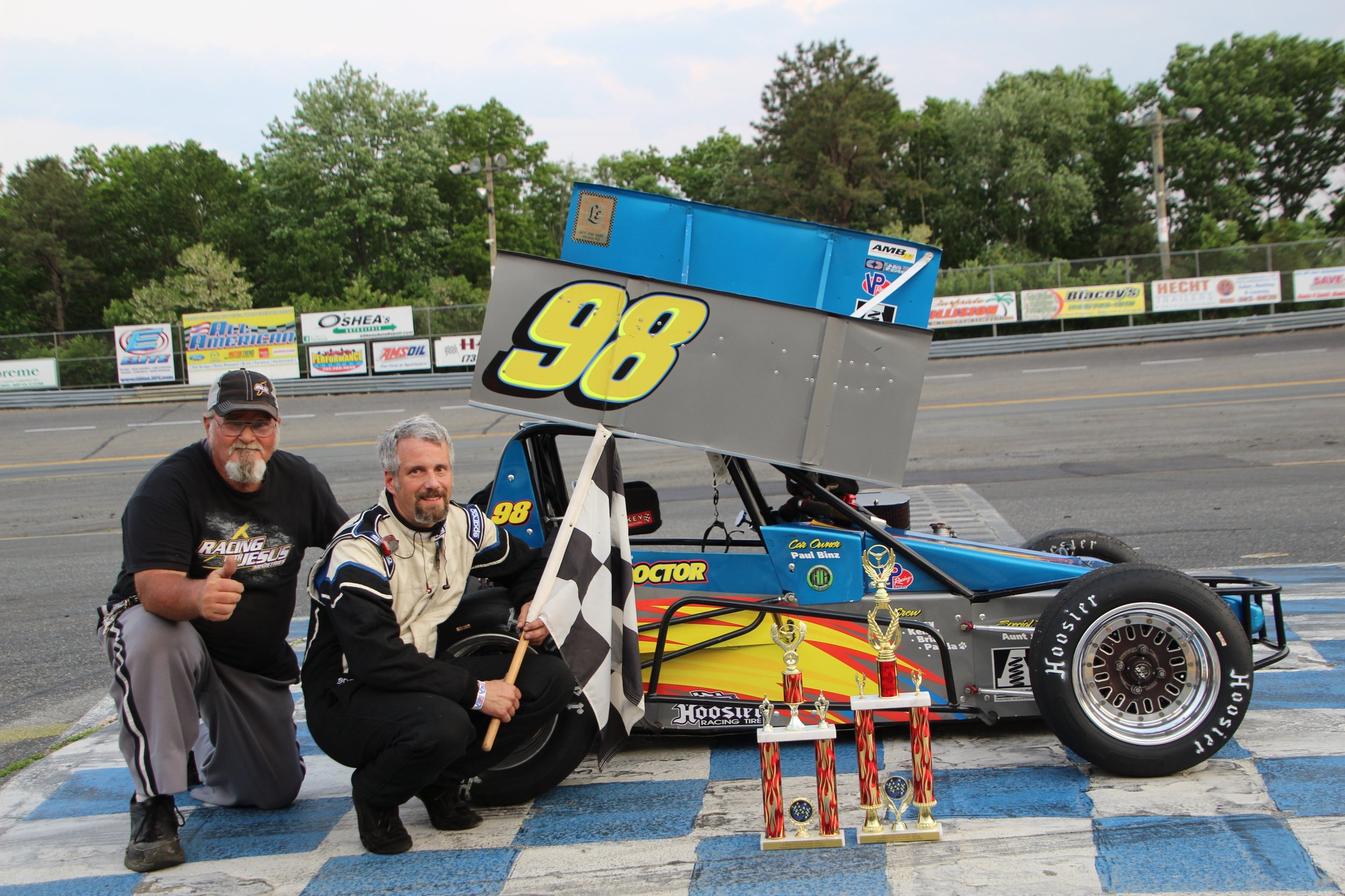 The Hoosier Mid-Atlantic ATQMRA powered by VP Racing Fuel hit the track for their third race of the season at Wall Stadium Speedway, NJ. This marked the first race where the TQ midgets would attack the inner oval with wings.
With this being the third race of the season, the heats and feature line up were set by a pill draw. Heats were won by Kyle Taraska and Joey Bailey. Four cars from each heat were eligible for the redraw.
Number 98 Tim Proctor drew the pole position after the redraw and never looked back. After finishing fourth in the second heat, Proctor would go on to lead wire-wire in the feature impressively holding off charges from former ATQMRA champions #1B Ryan Tidman, #36 Buddy Sload and #48 Matt Janisch. Even more impressive, this event was Proctor's return race after a vicious flip down the back-straightaway this past November at Turkey Derby.
Making impressive season debuts were Kyle Taraska, Paul Dodorico, and late entrant Richie Davidowitz. Taraska, of Woodbridge, NJ, entered his first of five races in the famed number 16 Spitfire in impressive fashion, setting fast time in practice as well as taking home a heat win. Paul Dodorico, of Long Island, brought his beautifully prepared number 55 Spitfire for his first race with the ATQMRA and was also impressive with a strong run finishing 10th. Richie Davidowitz, also of Long Island, was a last minute entry in the number 17 Hyper, finishing 4thin his heat and 8thin the feature.
Saturday's feature also marked the return of hometown driver Ronnie Mullen's #39 machine after extensive repairs after an indoor-season wreck this winter in Allentown. There was a lot of hard work that went into getting his car back on track this season, and the effort to just have the opportunity to turn laps yesterday is admirable.
The tough luck award goes to #20 Jon Keller. After experiencing a mechanical malfunction in the first practice session of the day, Keller made hard contact with outside retaining guardrail in turn three of the speedway. Thankfully, the driver walked away under his own power and we look forward to seeing Jon and his team return the track in the near future.
The Hoosier Mid-Atlantic ATQMRA will be off for the next few weeks, as teams will look to prepare for our next event at Bethel Motor Speedway, on June 16th2018. The June 16thevent will be a Pinebrook Reunion, celebrating the great history of the ATQMRA at the late-speedway.
Results
Heat 1:
1. #51B Joey Bailey
2. #51 Kris Graver
3. #48 Matt Janisch
4. #17 Richie Dividowitz
5. #55C Steve Craig
6. #39 Ronnie Mullen
Heat 2:
1. #16 Kyle Taraska
2. #1B Ryan Tidman
3. #36 Buddy Sload
4. #98 Tim Proctor
5. #73C Cole Mullen
6. #55 Paul Dodorico
Feature:
1. #98 Tim Proctor
2. #1B Ryan Tidman
3. #36 Buddy Sload
4. #48 Matt Janisch
5. #16 Kyle Taraska
6. #51B Joey Bailey
7. #51 Kris Graver
8. #17 Richie Dividowitz
9. #73C Cole Mullen
10. #55 Paul Dodorico
11. #55C Steve Craig
12. #39 Ronnie Mullen